When it was?
How you helped him/her?
Why you helped him/her?
How did you feel about it?
Well, We all need help at some point in time in our lives. I also received help much time and help others too. When we help others, It makes us delightful and polite, also shows our behavior towards others. Today, I like to talk about a time when I helped my bosom friend. I remember an incident when I was in 10th standard. I helped my needy friend who was my class fellow.
I assisted her because she was too much worried that she would fail in English subject this time if she did not improve her performance. As a best friend, it was my duty to help her.
I started devoting two hours every day with her. While teaching her, I realized that she was hardworking. She used to put her 100 % in studies by learning with determination, dedication, and discipline. But her efforts were not converting to fruitful results. After a week, I realized that her English basics were unclear. For one week, I taught her basic grammar rules.
She had burnt midnight oil during this one week and gave her best. The process of learning the basics of English as a teenager is a bit boring, but I made it interesting for her. After that, her performance started improving, and she started getting good scores in the mock tests. She did three months of rigorous practice under my guidance. Although she was nervous while taking the exam, she passed it with 85%.
To be honest, I felt happy at that moment that feeling was extremely different which I never felt before. I realized that some things can give more happiness than eating chocolates. I felt myself on the ninth cloud by happiness.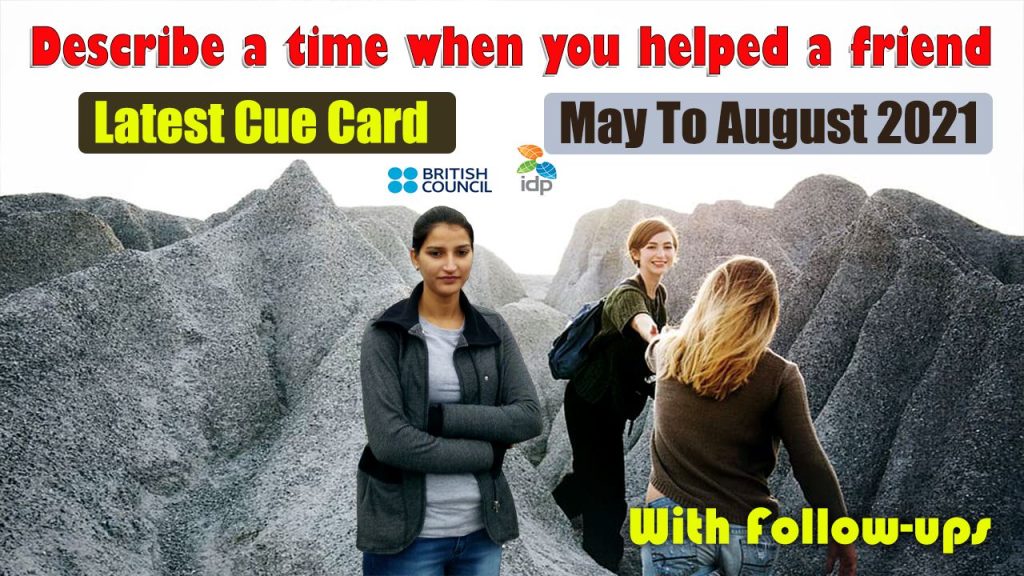 Follow-ups
1. How do people usually help each other?
People usually help each other by providing support to each other during happy as well as tough times. The support could be either monetary or non-monetary. Like providing money, goods, or services to your near and dear ones in case of a requirement.
2. How is online help different from real-life help?
In this era of digitalization, there is not much of a difference between online and real-life help. Because in case you want to offer your services personally by going to the person's place then real-life help is the only option. Otherwise, the benefits served from both options are more or less the same.
3. Should school be responsible for teaching students how to cooperate?
I think the onus of teaching the students how to cooperate should be on the schools, parents, and society. Because students spend around eight hours in the school, the rest of the time they spend with their family or in the company of their near and dear ones.
4. What are the differences between help from friends and help from family?
The help from family is more prompt and regular because our family is emotionally attached to us. Whereas, help from friends is also available in case of a need, but that is not as speedy as help from the family.
5. Should parents teach helping others to their children?
Yes, because the habit of helping others is important to lead a happy and fruitful life. Moreover, learning this habit in childhood from parents help the kids to inculcate this practice in their routine. Hence, when they grow up in life, they turn out to be responsible citizens.
6. How do you encourage children to help others?
Children follow the examples set by their parents and teachers. Therefore to motivate the children to help others, parents and teachers must join hands and help the underprivileged people. Upon seeing them helping others, Children too would develop this habit.
7. What is the most important way for a country to help foreigners who are visiting the country?
The central focus of a foreigner while visiting another county is on safety. Therefore, all the citizens should offer unabated support to foreigners. Moreover, we must help them to gain knowledge about our culture. This way we can make great relationships with foreign tourists.