Where it is?
What it looks like?
And explain why you like or dislike it?
Well, I have seen countless buildings with unique designs contemporary as well as conventional but here I would like to talk about an amazing and delightful building that I saw recently. And the building is North country mall which is in Mohali.
The architectural design of the building is fascinating. The outer of the entire building is made of glass. The sunlight reflection on the building is wonderful. The tower-like shape is able to arrest attention from everyone while the central heating control system provides comfort to the visitors.
The building is a shopping mall, and this is the largest one in the surrounding area. A wide number of shops are available there. The lower levels have all the major brands, where people can enjoy their shopping just under one roof and buy anything they want like Clothes, Foot wears to any other Household items, and on the upper levels there are Cinemas, Food Courts and many more for the Entertainment of the visitors, and to access these all different levels, there are lots of escalators as well as elevators, so that people could comfortably access different floors, not of this building. The collection of local and imported products will equally astonish visitors and shop lovers.
Well, I like the building for its stunning outlook and facilities. But it hurts me to think that a large portion of the natural environment was damaged during the construction of this large building. So I have mixed feelings about this building. I love it for its look and facilities but I also hate it for the fact that a large portion of the natural environment was damaged to construct it.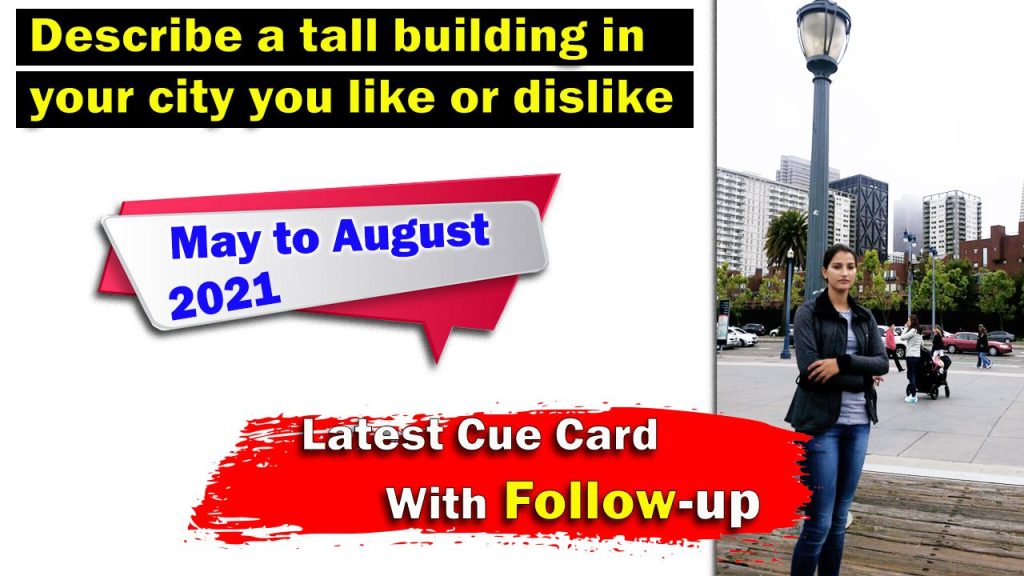 Follow-ups
1. What are the advantages and disadvantages of living in tall buildings?
I think the main advantage of living in sky-scraper buildings is that these are much more convenient for residents to live which offers a wide range of goods and services. On the other hand, high-rise building gives some of problems associated with security and safety of citizens. Not only this, the condition of a high building can be also highly dangerous, especially in areas prone to earthquakes.
2. Do you think there will be more tall buildings in the future?
I think in the future it would be a luxury to live in single-storey or double storey houses and tall buildings would be common place because population of human around the world is increasing significantly and this trend predicted will continue for several years later. As a consequence, there will high demand to the world for constructing high-rise building in order to meet the needs of the citizens for shelter and workplace.
3. Why aren't there many tall buildings in the countryside?
The prominent reason is the availability of land. As there is a lot of vacant land available in countryside regions so there is no need of tall buildings. Moreover, people in the countryside love to live in big or open dwellings rather than apartments. These kind of houses offer a very safe and secure environment for residents.
4. Why do some people like to live in tall buildings nowadays?
In this contemporary era, inflation is rising day by day due to this phenomenon many masses prefer to live in tall buildings because these skyscraper buildings are available at reasonable prices as compared to single story houses. Moreover, tall buildings offer certain rest from the noise from the streets below.