What it is?
What you need to prepare?
How easy or difficult it is?
And explain why you want to try it?
There are a plethora of recreational activities that one can do on the sea. To be honest, I am not a huge fan of sea sight activities and I have never indulged in leisure activity on the sea. But If I had to choose one then it would be scuba diving. Nowadays, scuba diving becomes a leisure activity in many countries. It is a sport in which people dive into the sea with an oxygen tank, mask, special mask, and breathing equipment.
No doubt, scuba diving is an extremely dangerous activity and it needs proper training and guidance. I do need specific preparations to do this activity. So, I need to join the training center and I know it will take a bit of time to learn because it is not an easy activity, one should know how to swim in deep water. I want to try this activity full of training.
I have heard from many individuals that the experience of deep water is amazing where one can explore a myriad of sea creatures and colors, as well as people, forget their troubles because each dive make them thrive and it's the best activity in the world.
Furthermore, I want to do this activity for various reason, such as explore new water animals, nature's beauty in the deep-sea as well as I will not only click pictures of marines but also upload on social sites and I also want to build strength and cardiovascular fitness because this activity provides all over body workout. This leisure activity will give me an opportunity to re-energize myself and be with nature and so I wish to do it. Definitely, I will try in the future and it would be exhilarating to go out.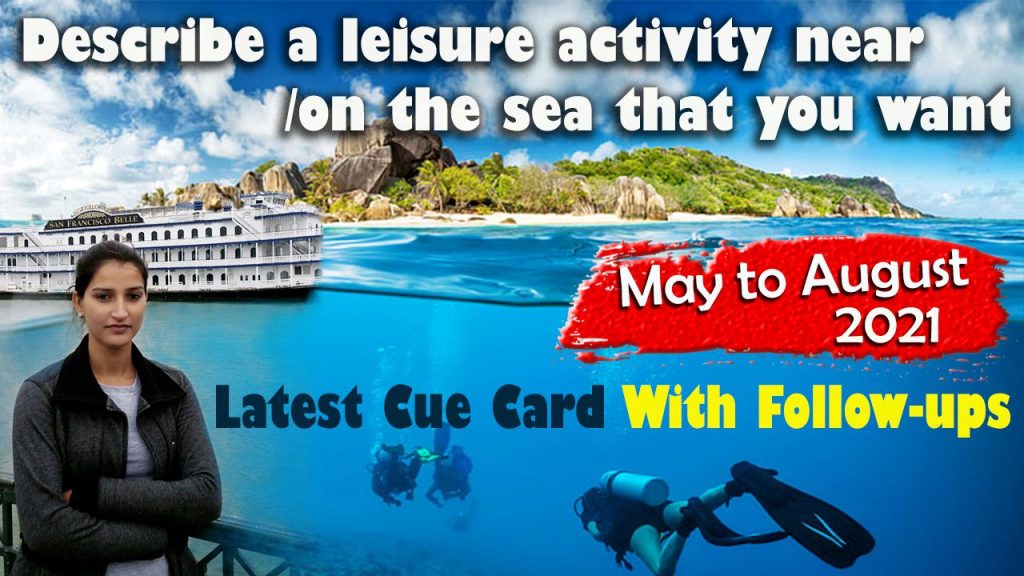 Follow-ups
1. What are the advantages and disadvantages of vacations on the seaside?
Seaside vacations offer many benefits. However, the main advantage is the beautiful sights and the chance to try on some water sports. On the other hand, people can get heat strokes and bad tans if they spend too much time in the sun. Additionally, there may be accidents like drowning, etc.
2. Why do children like the sea better than adults?
Children love doing water sports. Children can have fun and play around in the water without getting hurt. Moreover, Small children enjoy the sensation of sand between their toes and fingers, and water against their feet.
3. What types of job positions can be found on or near the sea?
People can find various jobs like swimming instructors, lifeguards, fishing etc. Moreover, people can also find work at seaside restaurants as there are many seafood restaurants on the seashore. Moreover, even individuals can get jobs in hotels.