What it was about
Where you saw/heard it
Who was involved
And explain why people were interested in it
News has always played an important role in people's lives and it is not surprising. I would like to talk about a piece of interesting and captivating local news that I read in a newspaper. It would be more than 2 years ago, I assume, when I read this news in a local newspaper called 'The Tribune".
the local administration announced that a sports complex would come up in our area soon. This initiative was a joint effort of local administration and sports companies. The administration is doing it for the welfare of local people. People were joyful after knowing about this development
The reason for their joy was that our area has everything like a shopping mall, a railway station, a sophisticated public transport system. Apart from this for education, there are renowned schools, colleges, and universities. And for entertainment, we have a multiplex and an amusement park. But despite these facilities, people were unhappy.
The reason for their resentment was that there is no good place for children and youngsters to play. Moreover, for the elderly population, there is less space to do the walk. So this news came out as a blessing for all the residents. Because a sports complex would create a positive environment in the town. First of all, it would produce sports talent. My town has a large number of talented sportspersons. But in the absence of facilities, they are unable to do justice to their talent. Therefore this new sports complex would help them to train in a better way. Furthermore, the older generation would get a place to meet their friends. So, is the piece of local news that I found interesting.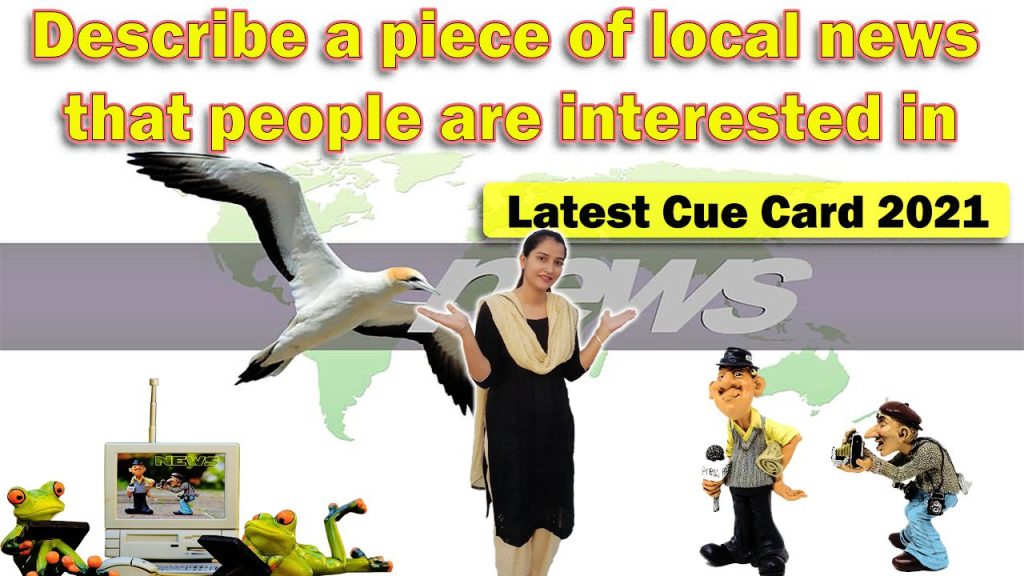 Follow-UPS
1. Do people read the newspaper where you live?
In my city, especially elders reading newspapers everyday morning and this habit is now part of their routines. But if I talk about in today's contemporary era most of the news is taken by people via the internet but still, some people love to read newspapers.
2. Do people prefer local or international news?
People love to read international and domestic news as they are always keen on keeping up to date with events wherever they are. They keep up with international news as they have many friends and family living in different countries around the world and they travel frequently. They read domestic news for obvious reasons to keep abreast of what is happening locally and how that might affect them or people they know.
3. Do you think it's important to have a national identity?
Yes, national identity is of huge importance. Because it motivates people to know about the nation they live in and work towards the upliftment of their nation. Moreover, for nations that have turned independent, it prompts the individuals to gain knowledge regarding the contributions made by their forefathers, and it educates them to work with those values.
4. How can people develop their national identity?
As per my opinion, there are numerous methods through which individuals could nurture their national identity. Firstly, they should wear traditional attires of their country. Apart from this, wherever possible, they must hoist the flag of their nation.