What it is?
When you discovered it?
How you want to improve it?
And how you feel about it?
In this modern era, Some people have quite unique talents which are difficult to imagine. Well, there are plenty of natural skills that I would love to improve such as Dancing, singing, sports, and many more. I would like to talk about the one skill that is really important for me. It is music that I want to improve at any cost as it is most important for my future goals and career.
If my memory serves me right, I discovered it when I was in my 10th standard. There was a school competition in my school and my mentor write down my name for the music competition but I did not agree with her. She forced and told me your voice is so melodious and then I said yes. I got participated and I got the first position in a singing competition. So, that time I came to know about my talent.
I want to join music classes to improve my singing because I want to sing at an international level. I want to be perfect in this field. I burn my midnight fuel and will do a lot of practice. Even I set a goal I will practice for at least 1 hour. I will give my 100 percent to become a good singer. In addition to this, you know that nowadays, numerous singing platforms where people can show their hidden talent, and I want to become a part of these shows. I will continue singing at a professional level and I want to earn name and fame through this talent.
Moreover, It also works as a stress-buster activity and I feel energetic whenever I do singing. I forget all the worries while I singing. I really feel singing is a great activity to learn.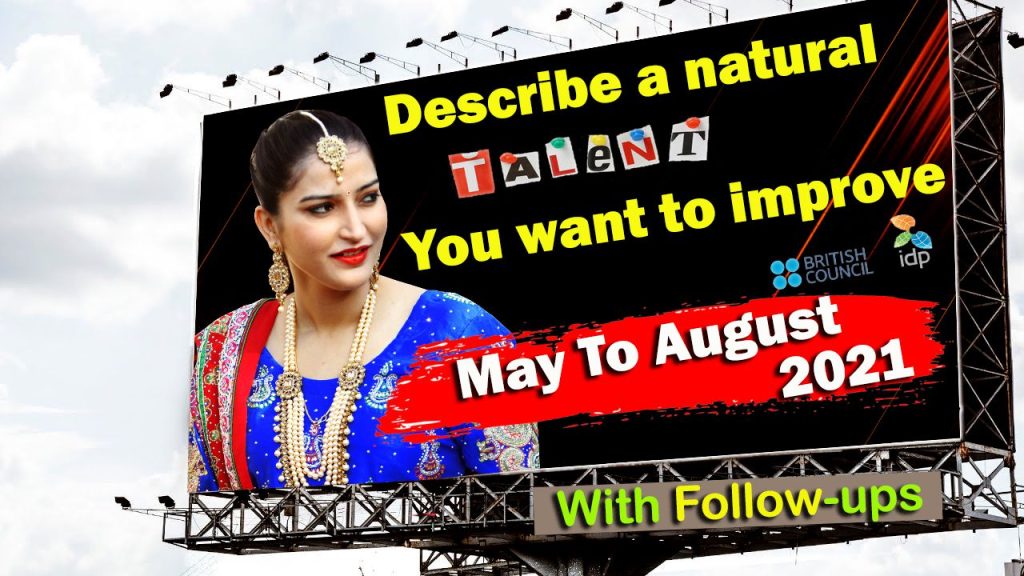 Follow-ups
1. Do you think artists with talents should focus on their talents?
Definitely yes, artists should focus on their talents because if they do this they will become more famous and earn name and fame with their talent. Even they will achieve more success in their life.
2. Is it possible for us to know the children who are 3 or 4 years old will become musicians or painters when they grow up?
According to me, children at the age of 3 or 4 are very curious and show their interest in almost everything as they are discovering the world around them. I do not think it is possible to predict what a child will grow up to be in the future at such a young age. It would be very difficult to identify that they will become an artist in the future or not.
3. Do you think parents feel guilty for putting too much pressure on their children?
I believe parents do not feel much guilty for putting their children under pressure because they want the best for their children, which can lead to them pressuring them to do well in their studies. It is well-meant, but it can lead to a student having low self-esteem, panic attacks, or even depression.
4. Why people like to watch talent shows?
Nowadays, more and more people are deal with a hectic schedule and they want peace of mind. So, that's why they prefer to watch talent shows because these shows provide full entertainment to them. Moreover, numerous individuals are fond of talent shows then they love to spend their time on favorite talent shows.
5. Do you think it is more interesting to watch famous people's or ordinary people's show?
Actually, I believe that renowned people's are more fascinating as compare to common masses because famous people are well experienced and have more talent. From well-known people, we get to know the story behind their struggles, hard work, and how they became famous.