where is it
what can you buy there
what is it famous for
how you feel about it.
In this fast-paced world where more and more people are turning to online shopping, open-air markets seem to have lost their popularity. But, I come from a city in which such markets are still quite popular. Today, I am going to talk about a well-known bazaar that I love visiting.
Shastri street market is probably one of the most renowned market in my city and it is located in the heart of my city. This market covers more than 1500 shops where at least 10000 people work. Undoubtedly, it is an extremely big, noisy and busy place. You can find hawkers chanting for special discounts all the time.
There are several things to buy such as clothes, foot wears, cheap ornaments, watches, sunglasses, kids wear and fashion products. You can see customers haggling for the best price and shoppers trying their level best to convince customers to buy their products. This market is renowned for clothes. There are also a lot of food vendors in this market and one can eat a variety of snacks like burgers, sandwiches etc. The street food available in this market is really delicious. Although sometimes the food may be unhygienic. This market is also very popular amongst youngsters as they get the latest in fashion at very nominal rates.
I feel that it is a great place to shop at. Everyone is so friendly and welcoming there. Not only the products are of high quality but their prices are very reasonable too. There is plenty of space for people to walk and shop. This matters a lot in my country because some markets can be overcrowded at times, making it almost impossible to move. All the vendors and shopkeepers are very nice and provide goods at reasonable prices. Although very busy, the market has a very nice atmosphere, and I find it a good experience to go there and buy things.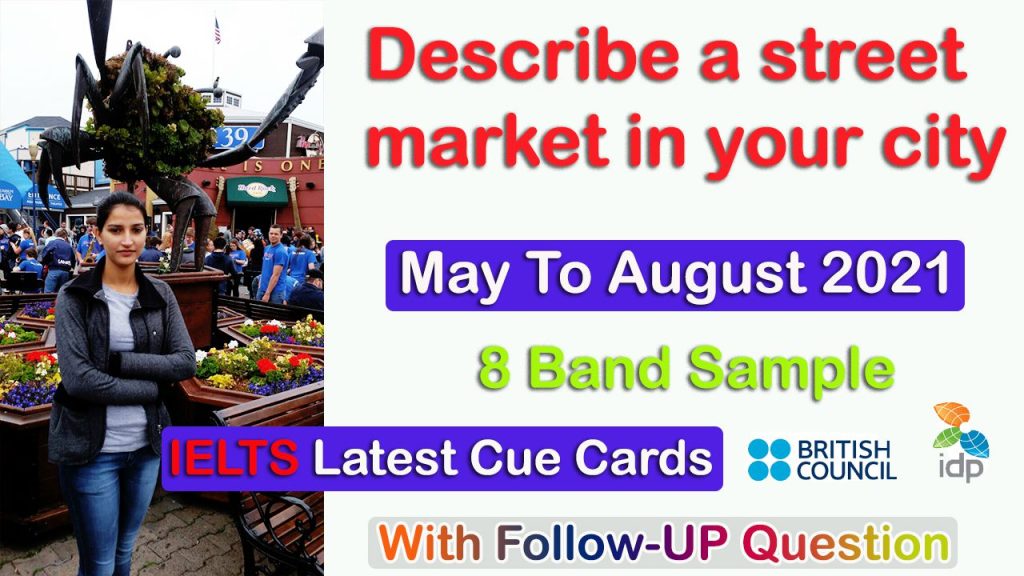 Follow-ups
Do you like shopping online or going out for shopping ?
Well, I am not very fond of online shopping. And the reason behind this is my poor experience. Most of the products which I bought through the internet were defective and duplicate. My credit card information was also misused. So, I always prefer traditional shopping over the internet.
or
I love to shop on the internet because online shopping offers many advantages over traditional shopping. First and foremost, some online stores have amazing collections for every age group. Secondly, we can buy anything through the net without going to crowded marketplaces and it's a hustle free process. Thirdly, return policies have made it more attractive.
2. What is the difference between shopping with friends and shopping alone?
It's fun to go shopping with friends. I can ask her/him opinion because She/he knows what suits me but When I go alone, there's no one to chat with and I have to do everything yourself.
3. What are the disadvantages of shopping in a big mall?
One of the primary disadvantages of shopping centers includes over crowd, particularly on ends of the week and occasions. The corridors and crowded stores make shopping very difficult, people often end up forgetting the items they need to buy. Older people with mobility problems may have difficulty passing through the shopping center, due to the breadth of the place. Parking can also be a problem when the mall is very busy.
4.Why people like to buy branded products?
Consumers want comfort, happiness, and satisfaction in their lives, and they get it in part through the products they buy. If the brands they use consistently deliver a positive experience, consumers form an opinion that the brand is trustworthy, which gives them peace of mind when buying. Moreover, Brands offer safety , reduce the risk of disappointment and also provide status.
5.In your opinion are big discounts real or just an advertisement?
Unfortunately, Fake discounts have been gaining momentum from year to year but on  time of festivals there are huge discounts on electronic goods and these discounts are real.