Section 1
Questions 1-10
Complete the form below.
Write NO MORE THAN TWO WORDS AND/OR A NUMBER for each answer.
COMPLAINT RECORD FORM
Name
Susan Yoke
Address
Flat 1
1 ……………..
Harchester, HA6 5LD
Daytime phone number
0781 233 452
Purchase reference number
2…………… 8443
Date of purchase
15th January
Item description
Aqua Powershot digital camera in a 3…………….. colour
Insurance
Yes, has a 4……………. policy
Details of complaint
5…………….. missing
should be 6……………… , but isn't
7…………….. on case
Action to be taken
If repair is possible, offered to provide a 8…………….. , but customer requests a 9………………
Asked customer to send item to 10…………….
Section 2
IELTS Listening Practice Test 16 With Answers
Questions 11-15
Match the places.
Write the correct letter A – H next to the Questions 11-15.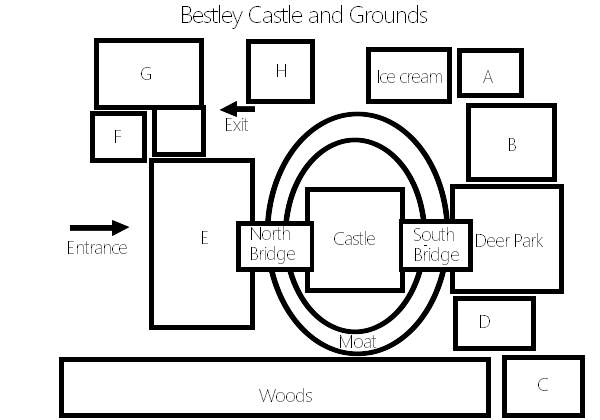 11 tourist information……………
12 carpark …………….
13 museum ……………………
14 picnic area …………………
15 gift shop ……………………..
Questions 16-18
Which THREE activities or events do you need to pay to get in?
Choose THREE letters A-F.
A museum
B castle
C fireworks
D gardens
E rock concert
F jazz concert
Questions 19, 20
Answer the questions below.
Write NO MORE THAN TWO WORDS AND/OR A NUMBER for each answer.
19 How often is the charity event held?
20 Who does Age Concern help
Section 3
IELTS Listening Practice Test 16 With Answers
Questions 21-30
Questions 21 and 22
Choose TWO letters, A-E.
Which TWO skills did Laura improve as a result of her work placement?
A communication
B design
C IT
D marketing
E organisation
Questions 23 and 24
Choose TWO letters, A-E.
Which TWO immediate benefits did the company get from Laura's work placement?
A updates for its software
B cost savings
C an improved image
D new clients
E a growth in sales
Questions 25-30
What source of information should Tim use at each of the following stages of the work placement? Choose SIX answers from the box and write the correct letter, A-G, next to questions 25-30.
Sources of information
A company manager
В company's personnel department
C personal tutor
D psychology department
E mentor
F university careers officer
G internet
Stages of the work placement procedure
25 obtaining booklet ……………..
26 discussing options ……………..
27 getting updates ………………
28 responding to invitation for interview …………………
29 informing about outcome of interview ………………
30 requesting a reference ………………
Section 4
IELTS Listening Practice Test 16 With Answers
Questions 31-40
Questions 31-33
Choose the correct letter; A, В or C.
Nanotechnology: technology on a small scale
31 The speaker says that one problem with nanotechnology is that
A it could threaten our way of life
B it could be used to spy on people
C it is misunderstood by the public
32 According to the speaker, some scientists believe that nano-particles
A should be restricted to secure environments
B should be used with more caution
C should only be developed for essential products
33 In the speaker's opinion, research into nanotechnology
A has yet to win popular support
B could be seen as unethical
C ought to be continued
Questions 34-40
Write ONE WORD ONLY for each answer.
Complete the notes below.
Uses of Nanotechnology
Transport
Nanotechnology could allow the development of stronger 34………………..
Planes would be much lighter in weight.
35………………… travel will be made available to the masses.
Technology
Computers will be even smaller, faster, and will have a greater 36…………….
37…………… energy will become more affordable.
The Environment
Nano-robots could rebuild the ozone layer.
Pollutants such as 38……………. could be removed from water more easily.
There will be no 39…………. from manufacturing.
Health and Medicine
New methods of food production could eradicate famine.
Analysis of medical 40…………… will be sped up.
Life expectancy could be increased.
Show Answer
Show Answer
Show Answer
Show Answer